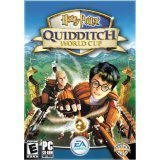 Harry Potter: Quidditch World Cup
About the Game
Description
Take to the air in the first game that allows players to fully experience the magical speed, power, and competition of Quidditch, the favorite sport of witches and wizards, in the Harry Potter: Quidditch World Cup game.
For the first time, gamers will experience the full complexity and exciting challenge of Quidditch, which involves two teams of seven players who fly on broomsticks, playing four balls simultaneously. Players will control every position on their team, including three Chasers who try to score with the Quaffle, two Beaters who control the dangerous Bludgers, the Keeper who protects the goal, and the Seeker who chases the elusive Golden Snitch that must be caught to end the match.
Starting with any one of the four Hogwarts house teams--including Harry Potter's Gryffindor--players learn Quidditch basics with five original challenges and the Hogwarts House Cup competition. Once completed, players can enter the Quidditch World Cup, choosing from a range of international teams including the USA, England, France, Germany, the Nordic Team, Japan, Spain, Australia, and Bulgaria--featuring Viktor Krum. Each national team sports its own Quidditch gear, has a unique stadium environment, and different strengths that lend depth and strategy, especially when two gamers face off in two-player competition for the first time ever in a Harry Potter video game.
---
HPearth is an unofficial fan site and is not affiliated with J.K. Rowling, Scholastic Books, Bloomsbury Publishing or Warner Bros. Entertainment. All trademarks and copyrighted material are the property of their respective owners. Layout Made by Suman Barua., art Copyright of Mary Grandpre, Warner Bros. and Scholastic Plc. HPearth.com is a copyright of Harsh Sadhvani and Suman Barua. Any use of our site illegally is strictly prohibited.