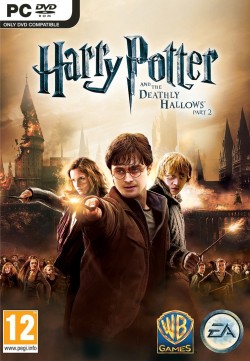 Harry Potter and the Deathly Hallows - Part 2
Description
Harry Potter and the Deathly Hallows – Part 2 is the second part of a two-part third-person shooter video game developed by EA Bright Light and published by Electronic Arts. It was released on 12 July 2011 in North America and 15 July in Europe to coincide with the film's release date.
The game continues to follow Harry Potter, Ron Weasley and Hermione Granger on their quest to defeat Lord Voldemort by destroying his remaining Horcruxes, items which contain part of his soul.
Platforms
Microsoft Windows, Nintendo DS, PlayStation 3, Xbox 360, Wii
Ratings

ACB: M (consoles)
PG (Nintendo DS)
ESRB: T (consoles)
E10+ (Nintendo DS and PC)
PEGI: 12
Gameplay
The gameplay of Deathly Hallows – Part 2 differs from Part 1, in order to address complaints made with the previous game. The game progresses linearly, through cutscenes but does not include side missions like the previous game. Combat in Deathly Hallows – Part 2 involves button presses which initiates spell-casting as an attack. Three face buttons, usually with a symbol or a letter, on the controller have two spells each, and by pressing a button twice the player can access the buttons second spell. A new feature is the ability to "Apparate", which allows the player to teleport in and out of battles, as a form of defence. The player is able to control several characters from a third person over-the-shoulder camera including Harry Potter, Ron Weasley, Hermione Granger, Neville Longbottom, Minerva McGonagall, Seamus Finnigan, Ginny Weasley and Molly Weasley.
Release
On the 8 May 2011, EA revealed the game covers for all the major platforms. The cover depicts the trio, surrounded by fellow Hogwarts students, and Death Eaters, and a destroyed Hogwarts in flames in the background.
Part 2 is also the first and only Harry Potter video game to feature PlayStation Move functionality. On 26 May 2011, 6 new images from the game surfaced online along with a new interview with IGN. The images included, duels between the core characters, and the Hogwarts castle itself, under severe stress. On 21 April 2011, Emma Watson released the first trailer. On 1 June 2011, Rupert Grint released a new trailer, showing all the playable characters. Later, A two new trailer was presented showing the tagline "War is Coming" and "The Battle for Hogwarts". On July, before the movie release, the official launch trailer was released.
---
HPearth is an unofficial fan site and is not affiliated with J.K. Rowling, Scholastic Books, Bloomsbury Publishing or Warner Bros. Entertainment. All trademarks and copyrighted material are the property of their respective owners. Layout Made by Suman Barua., art Copyright of Mary Grandpre, Warner Bros. and Scholastic Plc. HPearth.com is a copyright of Harsh Sadhvani and Suman Barua. Any use of our site illegally is strictly prohibited.