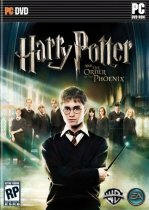 Harry Potter and the Order of the Phoenix
Review:
About the Game
PC Game Requirements:
Operating System: Windows XP/Vista
Processor: 1.6 Ghz
Memory/RAM: 256 MB
Hard Drive: 5 GB free space
DVD-ROM: with at least 8x speed
Video Card: 32 MB (Directx 9 support)
Directx: Version 9c(Included)
INPUT: Mouse and Keyboard
OPTIONAL: Dual Analog Gamepad
Description
In Harry Potter and the Order of the Phoenix, Harry returns for his fifth year of study at Hogwarts. The wizarding community is in denial about his recent encounter with the evil Lord Voldemort. The Minister for Magic, Cornelius Fudge, appoints a new Defense Against the Dark Arts teacher to keep watch over Dumbledore and the Hogwarts students. The young wizards are woefully unprepared to defend themselves against the dark forces threatening them, leaving Harry, Ron and Hermione to handles things themselves. Harry prepares a group of young wizards calling themselves "Dumbledore's Army" for the extraordinary battle that lies ahead.
Features
Immerse Yourself in Magic—Interact with magical objects, ghosts and portraits in every room, corridor and courtyard—all faithfully recreated from the movies.
Perfect Your Wand Work—Cast spells to unleash powerful fifth-year magic.
Lead Dumbledore's Army—Recruit fellow students and teach them defence against the dark arts.
Relive the Magic of the Movie—…from the Dementor attack in Little Whinging to the epic battles at the Ministry of Magic.
Unleash Advanced Magic—Play as Sirius and Dumbledore as they fight Lucius, Bellatrix and Voldemort in the Ministry of Magic.
Hogwarts Tour
---
HPearth is an unofficial fan site and is not affiliated with J.K. Rowling, Scholastic Books, Bloomsbury Publishing or Warner Bros. Entertainment. All trademarks and copyrighted material are the property of their respective owners. Layout Made by Suman Barua., art Copyright of Mary Grandpre, Warner Bros. and Scholastic Plc. HPearth.com is a copyright of Harsh Sadhvani and Suman Barua. Any use of our site illegally is strictly prohibited.