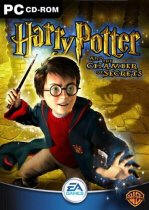 Harry Potter and the Chamber of Secrets
About the Game
Description
Ignoring Dobby the house-elf's grave warning that disaster will strike if he returns to Hogwarts, Harry embarks on his second year to find Dobby's predictions coming true. Harry soon finds himself entangled in a dark plot against his "Mudblood" classmates, as students keep turning up petrified. Could Draco Malfoy be to blame, or is something even more malevolent at work? With the help of returning friends Hermione, Ron, Hagrid, and Hedwig, Harry will attend new classes to learn second-year spells that will aid him in a quest to uncover the true identity of the "Heir of Slytherin".
Enter fantastical free-roaming 3D environments from Harry's world, becoming Harry Potter and delving not only into his world but also into his personality, via an internal "voice". Conversing with unique characters like Moaning Myrtle, shopping in Diagon Alley, and exploring the convoluted corridors of Hogwarts, you'll make crucial and independent decisions within Harry's world. Additionally, Harry can, of course, cast spells against foes--but these spells must be perfectly executed, or they could be miscast with humorous or critical consequences! Mini-games within levels can be revisited, so players can help Mrs. Weasley with "de-gnoming" her garden, challenge other students in Professor Lockhart's Duelling Club, or complete other mini-games again and again.
---
HPearth is an unofficial fan site and is not affiliated with J.K. Rowling, Scholastic Books, Bloomsbury Publishing or Warner Bros. Entertainment. All trademarks and copyrighted material are the property of their respective owners. Layout Made by Suman Barua., art Copyright of Mary Grandpre, Warner Bros. and Scholastic Plc. HPearth.com is a copyright of Harsh Sadhvani and Suman Barua. Any use of our site illegally is strictly prohibited.