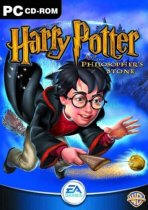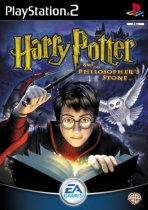 Harry Potter and the Philosopher's/Sorcerer's Stone
About the Game
Description for PC, Mac, Play Station, Game Boy Advance and Game Boy Color
Harry Potter and the Philosopher's/Sorcerer's Stone is the perfect game for Potter fans who've read the books, seen the movie, and still want more of J.K. Rowling's amazing world. As would-be wizard Harry Potter, you can run amuck in a virtual Hogwarts, learn to cast spells, play Quidditch, eat chocolate frogs, talk with teachers and classmates, and, of course, try to defeat You-Know-Who.
This is one of those rare games that both very young kids and their parents will be able to enjoy. You don't need the hair-trigger reflexes of a 13-year-old Nintendo ninja to explore the complex and mysterious world of Hogwarts School of Witchcraft and Wizardry. In fact, exploring the school is half the fun. There are secret passages, shifting staircases, and dangerous shrubbery wherever you look. The ultimate battle at the end is suitably challenging, but overall, the game is fairly forgiving. And you don't have to discover every single nook and cranny in order to pass to the next level.
Interacting with one's fellow students is also fun, and a real treat for serious Potter fans. As in the books, some schoolmates are helpful, some are rude, and some are simply awestruck when they meet you, the famous Harry Potter. Nearly all the characters from the book can be found in the game, including Potter pals Hermione Granger and Ron Weasley. Some characters are even more fully realized than they were in the movie: Fred and George Weasley, for instance, are always popping up in unexpected places via elaborate secret doors. Thanks to excellent voice work and diligent artistry from the game developers, the characters in the game look and sound like the characters from the film.
It's hard not to lose yourself in the lush graphics and delightful conversations, but as Professor McGonagall might say, Harry is at Hogwarts to learn, not to socialize! The way you learn and perform spells is clever: you must trace a specific onscreen pattern with the mouse. Accuracy and speed in your lessons wins house points for Gryffindor. Aside from your schoolwork, you must win Quidditch matches, solve mysteries, and eventually confront You-Know-Who.
The game is charming, but it is unfortunately obvious that a few corners were cut. For instance, sometimes solid walls can go semitransparent from certain angles, and the edges of the oval-shaped Quidditch Pitch look blocky and amateurish. The game also has a few bugs here and there. And finally, disappointingly, the pictures don't move. Still, the fun of this game is not in the playing of the game itself. The main fun lies in progressing through and interacting with J.K. Rowling's unforgettable universe. On that point, the game is a huge success. --Eric Fredrickson
Pros:
Talking with the characters from the book/movie
Sneaking around Hogwarts under the Invisibility Cloak
Quidditch
Easy navigation
Cons:
Obvious that a few corners were cut in making the game
Relatively primitive 3-D graphics
Hogwarts pictures don't move
Description for Play Station 2, Game Cube and XBOX
Continuing the game design style first used in Harry Potter and the Chamber of Secrets, the graphics and gameplay for Harry Potter and the Philosopher's Stone--previously available for the PlayStation, PC, Game Boy Advance, and Game Boy Color--are updated for next-generation consoles for an even richer experience in Hogwarts year one. Making the most of new technology, the locations in and around Hogwarts and Diagon Alley are displayed in 3-D.
Players take the role of Harry Potter as he arrives for his first year at Hogwarts and embarks on a journey to unravel the mystery of the Philosopher's Stone. An adventure full of fun and magic, Harry Potter and the Philosopher's/Sorcerer's Stone allows players to explore a variety of multi-layered 3-D environments. The game includes encounters with many of the characters familiar to readers of the fiction, including Harry's best friends Ron Weasley and Hermione Granger, Rubeus Hagrid, Professor Dumbledore, and his nemesis Draco Malfoy.
---
HPearth is an unofficial fan site and is not affiliated with J.K. Rowling, Scholastic Books, Bloomsbury Publishing or Warner Bros. Entertainment. All trademarks and copyrighted material are the property of their respective owners. Layout Made by Suman Barua., art Copyright of Mary Grandpre, Warner Bros. and Scholastic Plc. HPearth.com is a copyright of Harsh Sadhvani and Suman Barua. Any use of our site illegally is strictly prohibited.